14 July 2014
Alex Palazzo and Trevor Moraes promoted!
We were delighted to learn that Drs. Alex Palazzo and Trevor Moraes have been promoted to Associate Professor with Tenure in recognition of their "outstanding contributions to the Department and the University and of their promise for future scientific leadership." The Department extends its warmest congratulations on their achievement!




Online Biochemistry Course Offered through the School of Continuing Studies

Biochemistry with a Medical Perspective is an online, university level course taught by faculty from the Department of Biochemistry through a series of intensive, illustrated video lectures. The course is scheduled three times a year.
The course is open to Canadian and international students, professionals and private individuals. The course is not open to full or part-time students enrolled at the University of Toronto.

**NEW** SCS 2472: Biochemistry with a Medical Perspective is acceptable as a prerequisite for one of the two full-course equivalents in any life science for admission into Medical School at the University of Toronto.
Learn more on the course website.
Read all the News & Events

17 Sept 2014
McQuibban and McNeill labs reveal a novel signaling pathway in latest issue of Cell
Planar cell polarity (PCP), is a form of tissue organization that is critical for normal development. Dysfunction in PCP can result in several human cancers. PCP can be readily assessed in the Drosophila eye, by the ordered ommatidial array shown below: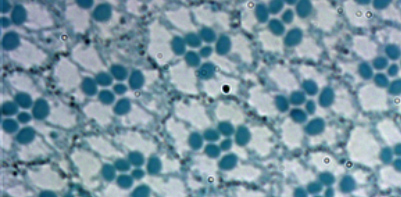 One of the key factors in the PCP pathway is the cell adhesion molecule called Fat. Using a combination of genetics and biochemistry, the McNeill (Mt. Sinai, Dept. Mol. Gen.) and McQuibban labs have discovered that Fat undergoes a proteolytic cleavage that releases a soluble cytoplasmic fragment. This cleavage unmasks an embedded mitochondrial targeting motif and results in Fat import into mitochondria. Once inside mitochondria, Fat regulates changes in intracellular metabolism. This is the first example of a cell surface protein being relocated to mitochondria to orchestrate an important signaling pathway.
09 May 2014
Alex Palazzo on Junk DNA
Dr. Palazzo in collaboration with T. Ryan Gregory from the University of Guelph published a perspective on "The Case for Junk DNA" that appeared in the May issue of PLoS Genetics and is highlighted in on the National Geographic website.
April 2014
Trevor Moraes and Alex Palazzo receive Early Research Awards
Congratulations to Trevor Moraes and Alex Palazzo who were selected by the Ontario Ministry of Research and Innovation to obtain Early Research Awards. Professor Moraes received the award to help develop antimicrobials through the structural investigation of membrane proteins, while Professor Palazzo will use the funding to continue his research into how mRNAs that encode secretory proteins are exported from the nucleus and translated into proteins.
23 March 2014
Igor Stagljar and colleagues identify a novel biomarker for the most common form of lung cancer
Appearing in the March 23rd issue of Nature Methods, the Stagljar lab developed the mammalian membrane two-hybrid (MaMTH) assay and applied it to the human epidermal growth receptor (EGFR), mutations of which are associated with lung cancer. Using this approach, they identified CrkII as an interactor of the mutated EGFR and showed that Crk II regulates the stability of mutated EGFR and thus promotes signaling within cancer cells Read more in the U. of T. News article.
Read all the Research News